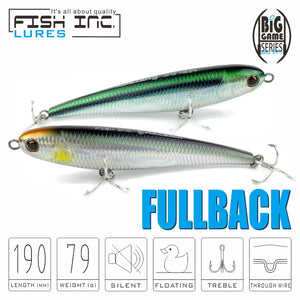 Fullback 190mm Floating Stickbait
The Fullback is the up scaled version of the Wing and  comes in at 190mm.  It has the same construction and profile as the Wing but has been reinforced with thicker ABS body to increase the strength.  The weight has also been increased to assist with casting distance.  The other main difference is the Fullback is floating and not sinking.
Essentially the Fullback has been developed for targeting large game fish who are hunting larger bait fish on the surface.